Six people were killed, every minute, of every hour, of every day for 100 days
Written by : Stacey McEvoy published Monday 18th July 2011
Roger Nsengiyumva was born during the Rwandan genocide. He is returning to his homeland to discover the harrowing truths of his family history. Can he also find a way to forgive those men who brutally murdered his innocent father?
Sixteen year old Roger currently lives with his mother in England. He was born at the start of the terrible Rwandan genocide. After the murder of his father, his mother kept them safe for 100 days until they were eventually rescued. Due to her raw courage, Roger survived one of the worst genocides in history.
At the age of nine, Roger visited Rwanda with his mother. Video footage shows his mother stating that she has forgiven the men who murdered her husband. Roger has therefore decided to return to Rwanda, to discover whether he can find it in his heart to forgive.
This one off documentary follows Roger on his emotional journey back to his homeland.
On his arrival in Rwanda, Roger is greeted by his uncle and cousins. He visits their family home and his uncle reveals that all fifty members of Roger's father's family were wiped out during the genocide. An emotional Roger is clearly shocked at hearing the disturbing truth about what happened.
The programme reveals that during the genocide, half of the Tutsi population were killed during 100 murderous days. The narrator disturbingly states that six people were killed, every minute, of every hour, of every day. The programme features disturbing images of people walking past dead bodies in the street and on the roads. This programme is certainly not for the faint hearted.
Roger's visit is taking place during the memorial week. He attends a remembrance service in the national stadium. All around the stadium are echoes of people overwhelmed with grief. A woman collapses and she is carried out of the stadium. An emotional Roger states: 'That wasn't mourning, she was seeing stuff'. It is clear that the pain is still raw for all those in Rwanda.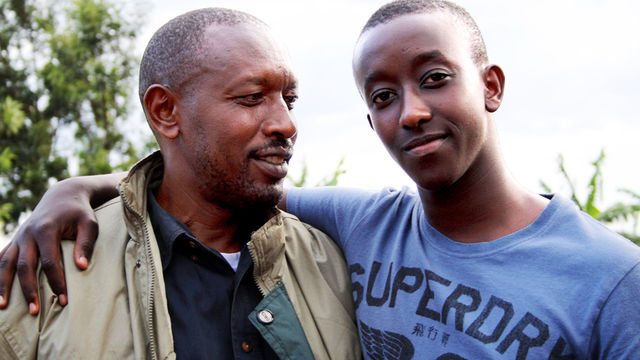 Roger decides to find out more about his father's life in Rwanda. He visits the Church where his parents got married. Soon the visit turns to sadness, as his uncle reveals that many of the people who attended the wedding were Hutus, who were friends with his father. As the genocide began, these same people hunted down and killed Roger's father.
During his visit, Roger visits a Church which became a sanctuary for thousands of Tutsi's trying to escape from the death squads. In three days, 25,000 people were killed, including women and children. The narrator disturbingly reveals that the murderers only stopped killing, because the stench of the dead bodies became too unbearable for them. At the back of the Church, Roger visits the museum. Here he sees piles of clothing and shoes, items which were taken from the dead bodies. He also sees the piles of tools which were used to torture the innocent people. The footage is certainly overwhelming and you can't help but feel emotional when catching glimpses of children's shoes and clothing.
During his visit Roger visits a rural village. He meets a woman who is neighbours with a Hutu murderer who was part of a gang who killed seven people in a day. Roger is amazed to discover the extraordinary forgiveness shown by the woman as she explains that she feels no hatred towards her neighbour. The man asks for his forgiveness and Roger grants him his wish. After the encounter Roger reveals that he cannot find it in his heart to forgive those who murdered his father. An emotional Roger knows that those Hutu's were friends with his father, and he finds it hard to believe how they could murder their innocent friend.
During the genocide, Roger's mother kept a diary. The programme shares some of her thoughts. Roger's mother explains how his father kept her and their newborn soon safe for 30 days until his luck eventually ran out. His mother escaped into hiding and she recalls the day she was finally rescued: 'Finally I could face the morning without fearing it would be my last'.
As the programme draws to a close, Roger reveals that at this point in his life, he cannot show the same forgiveness as his mother to those who destroyed their lives. He wonders whether he may feel differently in another 10 years.
The programme is beautifully made, and it will certainly make you feel emotional. The programme also highlights that although the Rwanda is trying hard to rebuild itself, the genocide is still raw to all those who live in the country. It is clear that the terrible events of those 100 days in 1994 will never be forgotten.
About the author Stacey McEvoy
My name is Stacey McEvoy and I am currently studying Journalism and Media at the University of Huddersfield. I love writing and it has always been a great passion of mine. I hope to be a journalist, ideally writing for a newspaper or a magazine.
Stacey McEvoy's profile
|
Stacey McEvoy's RSS feed
Tweet